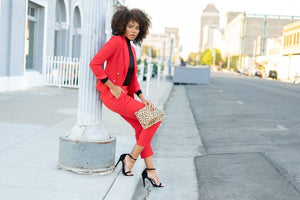 Suiting and workwear for business women allergic to playing small and fitting-in
image by Outsiders Studio
Shop 'Desk' Collection
Fabulous. Flattering. Functional.
What else could we ask for?
Introudcing the most loved trousers by our DesktoDusk customers: the Candace Trousers
These high-waisted trousers are ultra-soft, luxurious to the touch, comfy and can be easily styled for the office or any dressy occasion.
You may not need to workout in them, but we're saying, you could if you wanted to.
Available in 3 rich colors.
Shop Candace Trousers